Interview with a railway worker's great granddaughter.
My name is Ma Ching Won (Elaine)
My great grandfather Ma Get Poy went to Canada to work as a Railway worker in 1911. His job involved the hauling of logs from the coast to transport the supply of wood for the Canadian railway.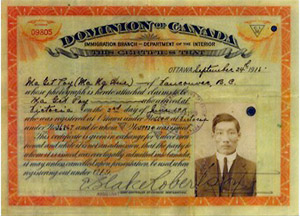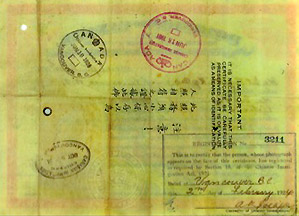 He had a son named Ma Dow-Hoon born in 1908 and a younger daughter.
After he lived and worked in Canada for the Railway, my great-grandfather visited his wife Chan Tai-Mui in China by crossing the Pacific by boat; the duration of the travel took over twenty days. It was during the ten years of his work for the Railway that he sent most of his earnings home. As a result, his family was able to build a house and he was able to offer an education to his grandchildren, one of whom was my father Ma Sau Ping.
My great grandfather paid the highest increment of the head tax of $500.
The head tax made it prohibitively expensive for a Chinese man to bring along any family member with him. The Chinese Immigration Act 1923 (to 1947), known in the Chinese Community as the Chinese Exclusion Act, further prohibited him from reuniting with his family.
There were at least three instances where my great-grandfather returned to China to bring back some of the money that he earned while he worked in Canada and to see my great-grandmother (who lived until 1980) and his family. Sadly, he barely knew who they were.
The reverse of the head tax document indicates the years that he re-entered Canada from each of his trips to China; the dates are illustrated on the stamps.
June 18, 1921
June 10, 1926
October 9, 1934
He died in Vancouver, B.C. on March 31, 1951. During the Communist Rule, my grandfather's family were treated poorly because they were land owners. Due to the life-threatening danger, my grandfather Ma Dow-Hoon and my oldest uncle Ma Chung Kam fled to Hong Kong.
In 1962, my father Ma Sau Ping and uncle, Ma Sau Yau travelled to Macau and then to Hong Kong where they lived for several years. It is there that my father met my mother in Hong Kong, married and had 3 children. In 1971, my uncle Ma Sau Yau sponsored my family to live in Kingston, Ontario where he resided.
In 1972, after one year in Kingston, my father moved his family to Vancouver, B.C.; I was born that year.
From 1977 to 1979, my father ran a Chinese restaurant in Lytton, B.C. located in the vicinity along the CPR. The business location was not ideal and he decided to return our family to Vancouver.
In 1989, my father remarried with Yan Fang Chen and he later had a son. He then purchased a space for a restaurant on a highway intersection located in Cache Creek. With the help of Uncle Sau Yau, a good location for a business was chosen, employees were hired, a restaurant and housing were created for his new family and employees. It was called Bill Ma's Restaurant and his business venture turned out favourably. He ran his business for about 10 years before he relocated his young family to Vancouver.
March, 2009 my father died.
July 2011:
David Cheung travelled with his two sons across BC along the
CPR tracks the Chinese railway workers helped to build by
train, by car and by bicycle for his Rocky Railway High project.
David Cheung visited Cache Creek and took three
photographs of a Chinese restaurant located on a busy
highway intersection; it was named the Starhouse.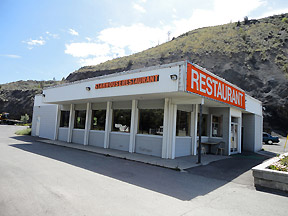 - David Cheung also visited the Village of Lytton, B.C. (population 2,000) and stayed at the Lytton Hotel for a couple of nights.
September 29, 2011:
- I walked into the Red Head Gallery, located in Toronto, Canada, and within 3 minutes of my entrance, I overheard a man (David Cheung) utter the word, Lytton to the temporary art director. I asked him to confirm that he referred to Lytton in B.C. To my surprise, David confirmed this and I then shared with him that I used to live in Lytton when I was between 5 to 7 years of age and that my family operated a restaurant across the street from the Lytton Hotel.
Dec 23, 2011:
- David shared photos that he took of a restaurant named the Starhouse Restaurant located in Cache Creek. He later learned online that it was called Bill Ma's Restaurant previous to the name, Starhouse. I confirmed with David that my father's English name was William and that he used to own this restaurant.
A special thank you goes to uncle Ma Sau Yau (Raymond),
married to his lovely wife, Janice; his son, Willard (Will) Ma
and his daughter, Kellie Ma who helped extensively to provide
the Ma family history. They currently live in Vancouver, B.C.,
Canada.