The Tobacco Victims' Museum of Art
TVMOA 烟草受害者艺术馆
Call for submissions 诚征作品:
"-599" - Campaign for reducing the
addictive ingredients in cigarettes more details
"-599"- 减少香烟的成瘾成分运动
中文网页
Activities & events 活动:
- 599: weixin campaign
微信抗烟 2015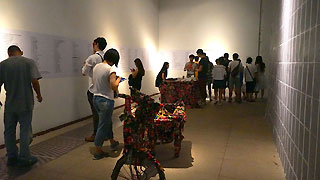 video "- 599 Weixin" exhibition opening
6:59 - 微信开展視频- 6分59秒
performance (- 600 )
行为 (- 600 ) 2015
Beijing memorial - 200,001 every 6 weeks
北京纪念碑/20万和1张代表每1个半月
在中国去世的烟民的照片。2015
'Quit-Smoking --599' -
performance art project
戒烟--599 - 行为艺术项目

戒烟参与者
"Quit smoking" participant
List of 599 cigarette ingridents
599 种烟草潻加剂清单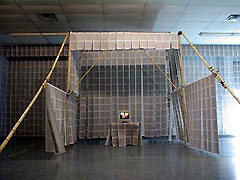 I would have died 3,000,001 times in
1993 alone if I did not quit smoking
如果1993年我不戒烟的话我将会死了3,000,001次 -2002
Teen Tobacco Summit 2003
青少年烟草峰会2003, Hamilton
ARTi-Smoking's 15th Anniversary 2002 - 2017
The Bill & Melinda Gates Foundation adopted creative & innovative marketing in the areas of focus for its Global Tobacco Control program.
艺术抗烟草15周年 2002 - 2017
比尔和梅林达盖茨基金会采用了有創意和創新的方法推廣环球烟草控制項目
Mission of Arti-Smoking 使命
According to The World Health Organization: Tobacco kills up to half of its users. Tobacco kills nearly 6 million people each year. More than five million of those deaths are the result of direct tobacco use while more than 600,000 are the result of non-smokers being exposed to second-hand smoke. Unless urgent action is taken, the annual death toll could rise to more than eight million by 2030.
By year 2050, over 500 million people would have been killed.
(Tobacco industry has been targeting under-developed countries. Such that number of smokers in these countries increased drastically, and many of them are children. Nearly 80% of the world's one billion smokers live in low- and middle-income countries.)
There is real urgency to curb this alarming trend.

根据世界卫生组织統计:多达一半的烟民会因烟草有关疾病而早死。目前烟草每年在全球杀死近6百万人。这些死亡的人中, 5百万以上是直接烟草使用者,另外超过60万为死于二手烟的非吸烟人士。除非我们采取紧急行动, 每年的死亡人数可能在2030年上升到8百万人以上。
到2050年, 全球总计将会有超过累積500,000,000 (五億) 的人被杀。
这数年, 吸烟者的人数急剧增加,是因为烟草行业针对不发达国家。因此烟民人数在这些国家急劇增长,其中许多吸烟者是儿童。世界有大約十亿的吸烟者,近80%是生活在低收入和中等收入的国家。
我们有紧迫性去遏制这种令人担忧的趋势。
Quanyin - ARTi-Smoking at VAMAC Gallery
观音-艺术抗烟草在VAMAC画廊
'- 6,000,001' (2015 - )
tobacco victims' memorial wall
香烟受害者紀念牆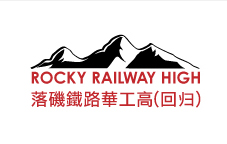 www.energygallery.com/rockyrailwayhigh
About Us 关于我们
Arti-Smoking is a not-for-profit organization founded in Canada in 2002.
Arti-Smoking uses creative methods and art to enhance youth and public awareness about danger of smoking and the epidemic magnitude of deaths from tobacco uses, as well as gathering public supports to fight the problem.
Arti-Smoking is NOT an anti-smoking organization, it is anti-TOBACCO; because it believes that tobacco and cigarettes productions are the real sources of the problem.
It is absolutely absurd to allow tobacco companies to continue marketing the lethal substance for profit.
"藝術抗煙草"是一個2002在加拿大成立的非盈利民間組織。
"藝術抗煙草"通過采用更有創意的方法來讓年輕人和公眾意識到吸煙的危害,特別是煙草導致死亡的高發率,同時該組織也致力于讓更多的公眾參与并支持該項活動。
藝術抗煙草不是一個反吸煙組織, 它是反菸草; 因為它認為,煙草和捲菸生產是問題的真正來源.
允许烟草公司继续销售致命物质以获取利润是絶对荒谬的。
useful links about tobacco related illnesses相关烟草的疾病的有用链接

Bryan Lee Curtis 1966-1999
Died of lung cancer at age 34
布莱恩李柯蒂斯1966-1999
在34岁死于肺癌
Memorial for Mr. Karl Kunz
Past advisor of ARTi-Smoking
(1951-2006)
*upcoming projects:
- not another puff
- documentary of 20 tobacco victims
- tobacco victims sculpture series
- 2 out of 3 smokers die of tobacco related illnesses
- 1,500,000@tnm

Interactive Net Art Performance:
I Would Have Died 3,000,001 Times In 1993 Alone If I Did Not Quit Smoking Net Art
click image below to see # of victims died from tobacco uses globally in every 35 minutes. 点击下面图片觀看全球每40分钟死於烟草疾病的受害者。(2002 data -2002数据)
Copyright 2002-2016 by Arti-Smoking. All rights reserved.